The annual conference brings together a diverse group of municipalities, water suppliers, engineers, regulators and legislators with industry professionals to discuss how to implement desal in Texas.
September 4-6, 2019
Sonesta Bee Cave, Austin, TX
Registration – PROGRAM UPDATE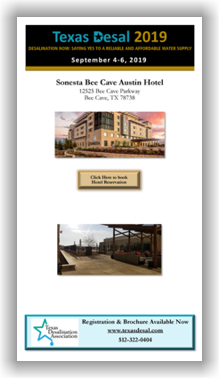 Texas Desal 2019 Annual Conference will focus on Desalination Now: Saying Yes to a Reliable and Affordable Water Supply. Attendees will learn about how the importance of pretreatment, high recovery, and sustainable water supplies. This conference will include panel discussions that will cover legislative & regulatory challenges & opportunities, cost of desalination and innovative technology.
To View Brochure – click on the brochure image at right.
Sponsor/Exhibitor Registration
Reach key decision makers in the desalination industry in a short amount of time. This Conference offers great opportunities.
Interested in Sponsoring or Exhibiting, please complete the Sponsor/Exhibitor Registration form.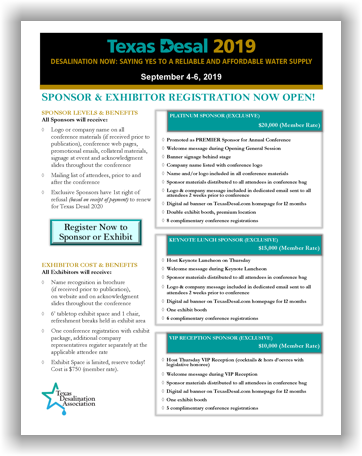 To View Sponsor/Exhibitor Brochure – click on the brochure image above or the link below.
Online Sponsor/Exhibitor Registration Form
Call for Student Posters – Extended Deadline: Submit NOW
The Texas Desalination Association is pleased to invite submissions for the 7th Annual Conference Texas Desal 2019.
Topics for Consideration:
Innovations in Desalination
State agency updates
Advances in energy efficiency
Desalination for the oil and gas industry
Regulatory and permitting challenges
and considerations

Economics of water supply
Desalination drivers
Value of water
Project and system costs
Procurement strategies
Submittal & Contact Information:
◇ Student contact information
◇ Contact person, if other than student
◇ Presenter bio
◇ Co-Presenter's full contact information (including bio) include Co-Presenter form, if applicable
◇ Topic Category, from list above
◇ Title of Presentation
◇ Disclosure if subject matter previously presented or published (when and where)
◇ Abstract
Online Application Student Poster Abstract Form
Hotel Information
Hotel Reservations: Special rate of $149 for attendees at the Sonesta Bee Cave Austin, is available until August 13, 2019, or sold out. Book online through the link at www.TexasDesal.com, or call the Sonesta Bee Cave at (512) 483-5900, and ask for the "#0903TEXDES" rate.
Sonesta Bee Cave Austin Hotel
12525 Bee Cave Pkwy.
Bee Cave, TX 78738
Ph: (512) 483-5900 (group code: #0903TEXDES)
Thank you Sponsors