The annual conference brings together a diverse group of municipalities, water suppliers, engineers, regulators and legislators with industry professionals to discuss how to implement desal in Texas.
September 4-6, 2019
Sonesta Bee Cave, Austin, TX
Program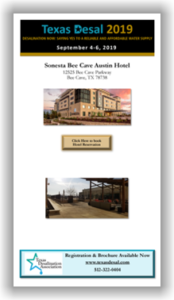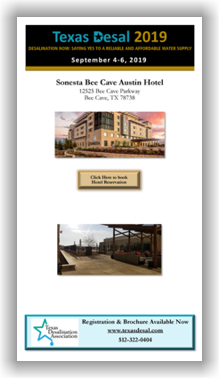 Texas Desal 2019 Annual Conference will focused on Desalination Now: Saying Yes to a Reliable and Affordable Water Supply. Attendees learned about how the importance of pretreatment, high recovery, and sustainable water supplies. This conference included a panel discussions that covered legislative & regulatory challenges & opportunities, cost of desalination and innovative technology.
To View Program – click on the program image at right.
Conference Photos!
[ngg src="galleries" ids="4″ display="basic_thumbnail" thumbnail_crop="0″]
Wine Reception Photos!
[ngg src="galleries" ids="2″ display="basic_thumbnail" thumbnail_crop="0″]
Thank you Sponsors