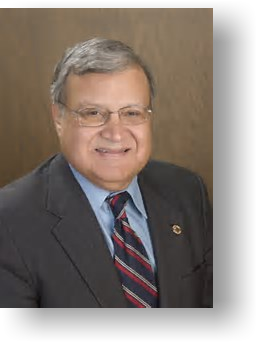 In 2016, the Board of Directors of the Texas Desalination Association initiated a scholarship fund for students at institutions of higher learning who are engaged in water resource planning and/or research involving one of the various aspects of brackish groundwater or seawater desalination. The scholarship fund is named for Ed Archuleta, who was also honored by the Association in 2016 as its Texas Desalination Pioneer.
Edmund G. "Ed" Archuleta was manager of the El Paso Water Utilities Public Service Board from January 1989 until his retirement in January 2013. He was responsible for all aspects of water, wastewater, reclaimed water service, and storm water to the greater El Paso metropolitan area. He reported to and implemented strategic policies set by the seven-member Public Service Board. Ed was then named the Transition and Special Projects Manager for the El Paso Water Utilities Public Service Board from January through July 2013. Ed joined University of Texas at El Paso (UTEP) as Director of Water Initiatives on September 1, 2013. Read more.
Previous Scholarship Recipients
2016 – Malynda Cappelle, PhD, University of Texas at El Paso
2017 – Savanna Smith, Undergraduate, University of Texas at Austin
2018 – Amit Jain, Rice University
Support students who are the rising stars of water resource planning and research for the future of Texas. To donate to the Fund, please complete form below. Thank you in advance for your generosity!