Advocacy for a drought-proof water supply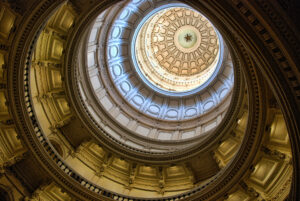 Texas Desalination Association was formed as an advocacy group in order to address changes in desalination policy and permitting required to assure the option of a drought-proof water supply.
Before 1990, not much was known about brackish and marine waters, so development opportunities for the public good were limited. After the 2011 drought, TexasDesal was established to highlight and implement the science and economic information regarding desal efforts and policy. There is a great need for an expert advocate for policy to ensure water stability, opportunity in the regulatory environment – for Texas communities and their industries.
Your support of TexasDesal translates directly into initiatives with elected officials and government agencies that will result in clear pathways for the utilization of desal technologies across the state.
To meet our state's growing water demands, the Texas Desalination Association seeks modification of certain statutes and regulations in order to remove barriers to and encourage the development of brackish groundwater as a viable water resource.
Our Texas Legislative priorities will continue to create policy that benefits the industry and allows implementation of desal technologies.
Additional, detailed priorities are expected to develop because we stay current with the market and industry. Keeping the conversation relevant and actionable is our goal.
---
October 18, 2022 – House Natural Resources Committee Hearing
TexasDesal represented Texans today at the House Natural Resources Committee Hearing to advocate for more desalination as a responsible and effective way to manage and increase water supplies – especially in a time of extreme drought.
Watch the video of the Hearing: Texas House of Representatives, Natural Resources
The Texas Water Development Board also participated in the Hearing and presented "Desalination". Erika Mancha, Director, Conservation & Innovative Water Technologies, Office of Water Science and Conservation, discussed the 2022 Biennial Report on Seawater and Brackish Groundwater Desalination in Texas and Matt Nelson, Deputy Executive Administrator, Office of Planning discussed Desalination Projects in the 2022 State Water Plan.
Read the full presentation here: Desalination