Advocacy for a drought-proof water supply.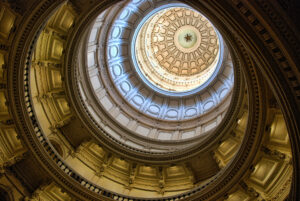 Texas Desalination Association was formed as an advocacy group in order to address changes in desalination policy and permitting required to assure the option of a drought-proof water supply.
Before 1990, not much was known about brackish and marine waters, so development opportunities for the public good were limited. After the 2011 drought, TexasDesal was established to highlight and implement the science and economic information regarding desal efforts and policy. There is a great need for an expert advocate for policy to ensure water stability, opportunity in the regulatory environment. For Texas communities and their industries.
Your support of TexasDesal translates directly into initiatives with elected officials and government agencies that will result in clear pathways for the utilization of desal technologies across the state.
We look forward to your participation!
Desalination Lunch & Learn Series at the Texas State Capitol
Members of Texas Desal get face time with state legislators and their staff throughout our summer seminar series. Our members choose a topic to present and supply lunch for the two hour event. Here is the 2018 summer line-up:
May 16 – "Fake News: Dispelling the Myths of Desalination" from Bill Norris with NorrisLeal
June 12 – Bill Norris with NorrisLeal
July 17 – Paul Choules with Water Cycle Co.
August TBD – Dewitt Dees with Voltea
Events take place from 11 am – 1 pm in Legislative Conference Center – Room E2.002A. Please RSVP to Tucker Frazier.
2017 Legislative Priorities
To meet our state's growing water demands, the Texas Desalination Association seeks modification of certain statutes and regulations in order to remove barriers to and encourage the development of brackish groundwater as a viable water resource.
View the detailed PDF of legislative priorities here. Explore the explanations behind our thinking of brackish groundwater management, the State Water Plan strategies, and more.
Below is a visual representation behind our legislative priorities for 2017. The materials were  introduced at Texas Desal Day at the Texas Capitol on March 27, 2017.
Expected Priorities for 2019
Our 2019 Texas Legislative priorities will continue to create policy that benefits the industry and allows implementation of desal technologies.
Additional, detailed priorities are expected to develop because we stay current with the market and industry. Keeping the conversation relevant and actionable is our goal.