Mark your calendars for Texas Desal 2018!

The TexasDesal 2018 Conference is the premiere desalination technology conference in Texas. It brings together a diverse group of municipalities, engineers, regulators and industry professionals to discuss how to implement desal and the latest research.
Become a Texas Desal 2018 Sponsor. Great conferences start with great sponsors. We hope to have you join this group of municipalities, policy makers, and industry leaders. You can find more information about the sponsorship levels and exhibitor spaces here.
To become a sponsor or an exhibitor, contact Karen Ford at WaterPR: 512.922.8234; kford@waterpr.com
Student Posters are now being reviewed for display at Texas Desal 2018! Learn more and submit your abstract today. Deadline is July 27, 2018. $500 will be awarded to "Best of Show". 
September 13-14, 2018
Sheraton Austin at the Capitol
701 E. 11th Street Austin, TX 78701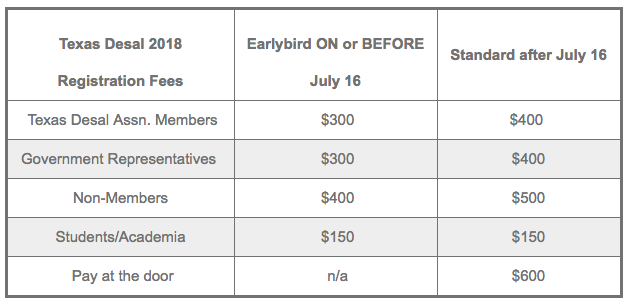 Reserve your hotel room now at the group room rate $195/night.